Overview
SNAPSHOT
LOCATION
Argentina (Rio Negro, Chubut, and Neuquén Provinces)
OWNERSHIP
100% owned by Green Shift Commodities
STAGE
Exploration
PRIMARY MINERALS
Hardrock Lithium Pegmatites
The Rio Negro Project consists of approximately 500,000 hectares, 300,000 ha of which is 100% owned with an option to acquire the remaining. It consists of staked and granted claims stretching through the provinces of Chubut, Rio Negro and Neuquén. Historic work on granitic stocks in the Manuel Choique area by the Argentine State in the 1960's identified 19 separate pegmatite bodies where assay results from 60 rock chip samples ranged from 0.6% Li2O to 4.1% Li2O, averaging 2.0% Li2O. GCOM has not independently verified these reported grades and therefore they cannot be relied upon until these areas have been resampled.
Highlights
The Property covers a large portion of an intrusive belt known to host lithium mineralization in pegmatites.
Over 800 structures (possible pegmatite bodies) have been mapped through satellite image interpretation in the Manuel Choique pegmatite field.
The planned work consists of prospecting, rock chip sampling and trenching on the highest priority areas located in the Rio Negro Project.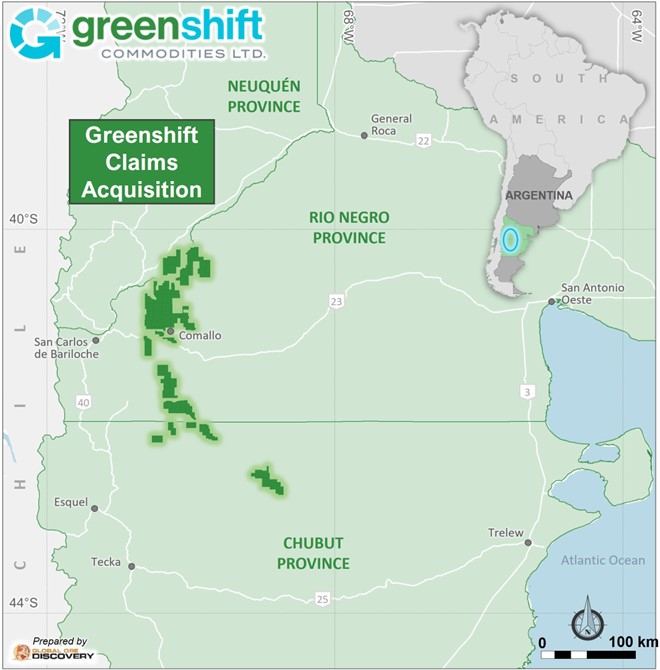 Map of location of the Rio Negro Project of 500,000 Ha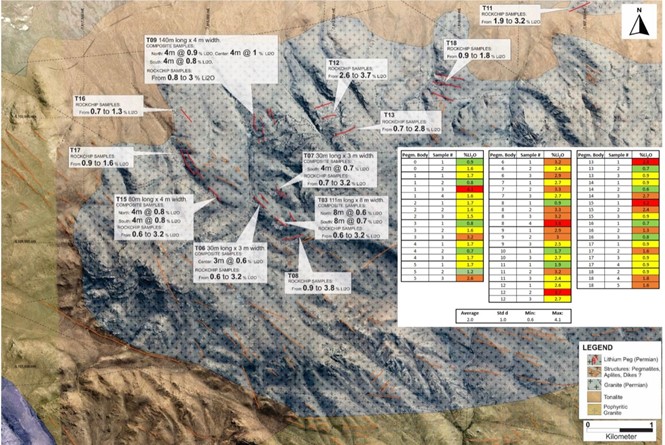 Map of initial sample locations with associated grades from 19 separate pegmatite bodies discovered in 1960's.
To learn more view our corporate presentation